For most of us, Christmas will be celebrated indoors this year to ensure our health and safety. One of the experiences we will miss out on during this festive time is the large-scale public display of Christmas decors, from giant Christmas towns to holiday-themed light shows.
These installations are not only entertaining and Facebook post-worthy. They are also impressive feats of architectural design and construction know-how. Take a virtual holiday trip around the world with 10 of our favorite creative Christmas trees (in no particular order) and get a feel of the Christmas spirit:
1) OuterEdit's Lattice Tree in Singapore (2019)
Photo courtesy of Dezeen magazine
A complex yet minimalist tree, creative agency OuterEdit was able to accomplish it with flying (pastel) colors. This creation was displayed in Singapore's Millenia Walk shopping center last year. It featured an LED gradient color scheme on skeletal metal cubes.
2) Connaught Hotel's Christmas tree in London (2017)
Photo courtesy of Dezeen magazine
This conceptual Christmas tree was made by artist Tracey Emin for the Connaught Hotel in London back in 2017. The piece was made with purple neon lights and the artist's handwriting. The literary boughs spelled out a love poem dedicated to Emin's deceased mother, bringing sentimental value to an already great architecture.
3) Christmas Tree in Raksvere, Estonia (2015)
Photo courtesy of Country Living
In this repurposed creation, a town called Raksvere in Estonia made a beautiful and unique Christmas tree for the public to enjoy. This installation was made from 121 repurposed windows from the old houses. It is a design that represents the area with heart and sustainability in mind.
4) Manila Ocean Park Tree in Manila (2015)
Photo courtesy of Country Living
Here's an eco-friendly way to celebrate the Christmas spirit. The Manila Ocean Park installed this Christmas tree back in 2013. The tree was made out of 6,500 recycled Mountain Dew bottles to inspire onlookers to recycle. To encourage action, the Park also ran a bottle recycling drive alongside the tree's reveal.
5) Rockefeller Center Tree in New York
Photo courtesy of Rockefeller Center
What's a Christmas tree list without the iconic Rockefeller Center tree? The American tradition first began in 1933 and is still a much-awaited event until today. Annually, the 75-foot tall tree features a 900-pound star topper made with 3 million Swarovski crystals.
6) Gubbio Mountain Tree in Gubbio, Italy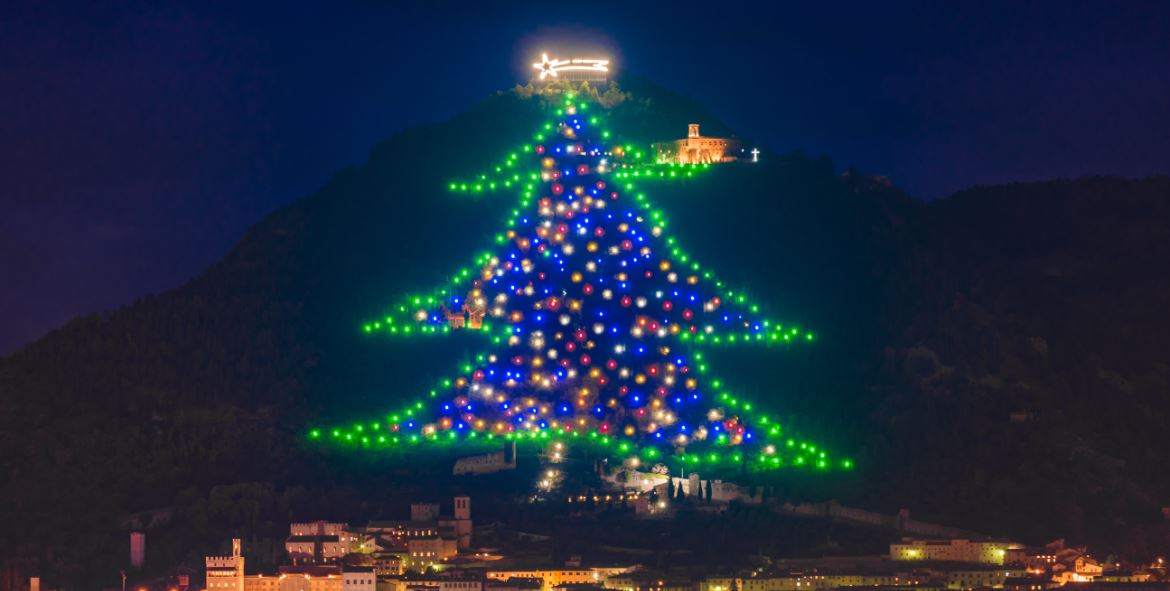 Gubbio Mountain
If you thought the previous trees were already big, you would be amazed by the Gubbio Tree. This 2,000-foot installation serves as the Italian town's Christmas tree, made out of real mountainside pine trees decorated with lights.
7) Murano Glass Tree in Venice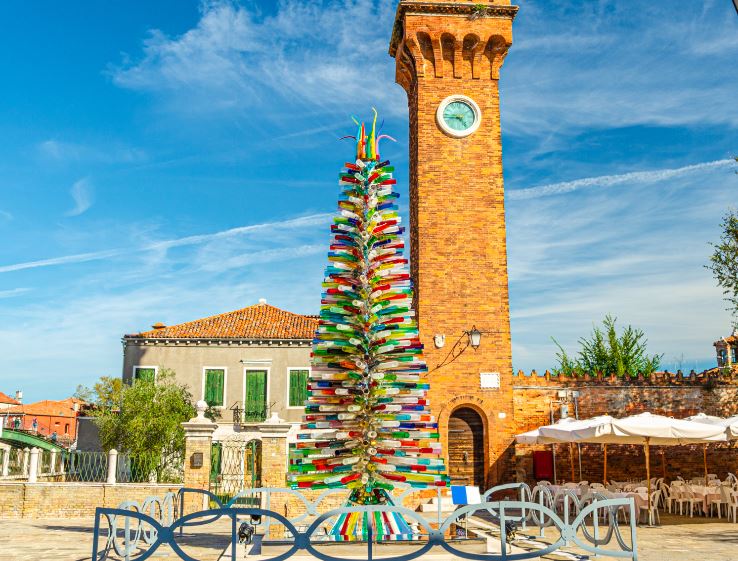 Photo courtesy of Aliaksandr Antanovich on Shutterstock
Murano glass, also known as Venetian glass, is emblematic of the area's craftsmanship. The glass is made in the Venetian island of Murano. It is known for the very technical process it requires to create exquisite patterns on glass. What better material to make a Venice town tree with than Murano glass?
8) Mega Sardines Tree in Manila
Photo courtesy of Mega Sardines Facebook
Standing at a whopping 19 feet and 4.5 inches tall, this Christmas tree was made by local sardines brand Mega Sardines this year. The installation broke the Guinness World Record for tallest tin can structure. The tin can tree took seven days and 70,638 sardines cans to assemble.
9) Godzilla Tree at Aqua City Odaiba, Tokyo
Licensed Christmas Tree Godzilla. Photo courtesy of Inventor Spot
Where else would you find a giant Godzilla-shaped Christmas tree than in Tokyo? Back in 2000, shopping complex Aqua City Odaiba installed the almost two storey-tall tree that amazed (and possibly terrified) shoppers.
10) Frozen Christmas Tree in London
Photo courtesy of Iwona Pinkowicz for TimeOut
This tree stands at 17 feet tall and has 1,200 lights on it, but the impressive size and light display isn't the main feature: It's the seemingly clear ice encasing it. This is a public art installation by sculptor Alex Chinneck. He used almost a quarter of a ton of resin to create this block of ice.
Christmas is just a few days away. While our usual large family celebrations and reunions are postponed, we can still simply celebrate at home, watch holiday-themed movies, and even events. After all, there's nothing better than spending good quality time with family during the holidays.